Take a good long look at Woman. Deep down, beneath all that beauty would you venture to believe there's anger, greed and evil? As harmless as you may want to believe the lady is, think twice. Better yet, look over the stable of wrestling lunatics that are under her control and anxious to constantly fulfill her every request. What makes Woman equally devious and dangerous as great managers as Paul Jones and Captain Lou Albano is her strategic, yet destructive planning and reshuffling of thoughts to win at all cost.

No foreign object or gimmick in hand to rely on for an added advantage with her opposition, just utilizing the wrestling education taught to her by many of the most superior minds in the game is all the weapon she needs. Just listen to what Woman's fellow workers are saying and there never seems to be a shortage of an opinion on one of the sport's most recognizable managers.

"Believe me, the only thing that's going to straighten out that witch, hopefully, is a good old fashioned spanking, Also, suspending her managerial license once or twice could do the trick. Woman has a need to flaunt her money, but sooner or later her funds would be drained. To get her to clean up the manner in which she conducts herself around the ring, you have to hit back where it would affect her most," claims The Honky Tonk Man.

As twisted as Woman's ways of getting the job done are, she is never in short demand. The upstart Global Wrestling Federation is believed to have joined in the bidding war, along with as many as a half dozen other promotions in attempting to lure Woman and her stable in hopes of boosting attendance figures. As frail as she may appear, when digging more into her past you quickly learn that simply isn't the case.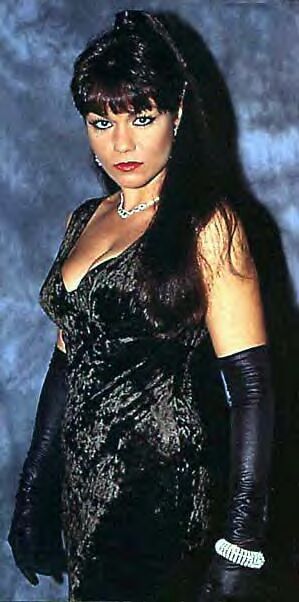 Woman
On countless occasions her protege's opposition, frustrated with her verbal and or physical interference during a match, have motioned to want to haul off and slap her, only to refrain from such revengeful acts because she is a female. Referees also get an ear full of unsolicited advice from the 5'4" Daytona Beach, Florida native. During her tongue lashings some officials do indeed lose their concentration. Even huge special guest referees as Bam Bam Bigelow are prone to Woman's lip service.

"Woman is a tough nut to crack. In my opinion, it's the competitive nature of the game that drives her. When told that a championship is hard to achieve, and that a champion can't be beat, that kicks her brain into overdrive and she gets vicious. It's a cold hard fact, if whoever she's managing can't get the job done in the ring, just the way she demands, boom-they're out of the picture immediately," "Hotstuff" Eddie Gilbert stated.

In the past seven years as a manager, Woman has built not only a hefty bank account but a surplus in confidence as well. 1989 was her most memorable year until 1991 as far as proving to doubting promoters just how capable a manager she is. The tag team billed as Doom in the National Wrestling Alliance captured the world tag title with Woman behind them. And then NWA Heavyweight Champion of the World, "Nature Boy" Ric Flair, hired her to handle his in-ring affairs. But a dark cloud of suspicion was cast over Woman as she was suspended indefinitely from the promotion by Vice-President Jim Herd for her alleged actions on May 19, 1990 in the Washington, D.C. armory.

Woman was fingered as the culprit who hit the lever to lift the cage just high enough for Barry Windham and Ole Anderson to scoot under and save Flair from what seemed to be a sure defeat at the hands of Lex Luger in a main event cage match. Yet, she never feels sorry for herself. Woman remains a major force to be dealt with in the Tri-States Wrestling Alliance as well as with independents in the "Sunshine State". However, she won't allow herself to be associated with just any promotion. Her original protege Kevin Sullivan, remains as whacky and devious from the first day of their affiliation and the two have reached the point financially where they don't have to remain in wrestling. But you won't catch them being lazy and watching soap operas on television all day.

"Woman has absolutely no sense of loyalty to her gang. The minute they screw up, she forgets all the positive things they've done for her. When Larry Winters was on crutches and unable to defend the TWA tag title with Johnny Hotbody, Woman called on "Mad Dog" D.C. Drake to take his place. Well, when her plans at ringside backfired and Drake was pinned and the belts went to the Blackhearts, she kicked Drake out of her crew. What goes around, comes around, that's all I will say. Woman, watchout," claims "The Latin Hearthrob" Al Perez. The more she gets, the more greedy she is. She may wind up getting mixed up with the wrong people and bite off more than she can chew. Hey, Woman, don't forget your limitations, you aren't a wrestler as Madusa Miceli or "Sensational" Sherri. Be careful, you've made many enemies.