The match between D.C. Drake and Rockin' Rebel was significant in and of itself. It was, after all, the bout that would determine the first champion of the red-hot Tri-State Wrestling Alliance.

But there was a bit of added intrigue to this encounter that pumped up the sellout crowd at Pennsylvania Hall, an annex of the Philadelphia Civic Center.

When Rebel announced that he had hired Baby Doll to be his manager for the bout, the devious Drake knew he had to take drastic measures. And that he did.

"Mr. Drake couldn't have made a better choice," said perhaps the most controversial female to hit the sport in years, the woman known simply as Woman.

It was Woman's first appearence since being banned from the NWA for trying to smuggle a foreign object into the ring for the steel cage match between then-NWA World champion Ric Flair and Lex Luger at "Capital Combat '90" on May 19 in Washington, D.C. Woman and the Horsemen's manager, Ole Anderson, tried to fight the suspension through legal means, but gave up when they realized that the court battle could take several months.

"The NWA was out to get me, everybody knows that," said Woman. "They finally found a way to get rid of me. Congratulations to them. What they didn't realize is that it was their loss. It was me the fans were coming to see."

Woman has, in fact, amassed a large number of loyal fans; despite her absence, she still ranked sixth in the recent Wrestling Superstars "Sexiest Superstar" poll.

"Those NWA fools don't know what they're missing," said Woman slyly. "I've always been independently wealthy. They need me a heck of a lot more than I need them."

Woman was a beautiful fixture at ringside in the NWA earlier this year, but she tends to overrate her success as a manager. "I was the driving force behind the Horsemen becoming dominant in the NWA, and I was the person who put Doom together for the first time. I was great, pure and simple."

Great? Hardly. Pure and simple? Well ...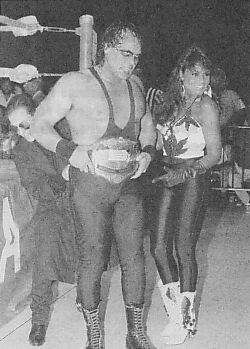 D.C. Drake, Don E. Allen, and Woman
"I have plans for the future," Woman continued, "and anybody lucky enough to be in my good graces will benefit. Like I said, D.C. Drake couldn't have made a better choice."

Indeed, Woman's meddling made the difference in the wild bout. The sensual brunette handed Baby Doll a large sum of cash, which prompted Doll to quit the match and leave the ringside area. Alone to do as she pleased, Woman threw powder in Rebels's face, which led to an illegal victory-and the title-for Drake.

There's no doubt that Woman is back with a vengence. But is this femme fatale now the permanent manager of Drake?

"Not really," smiled Woman. "Let's just say I was doing a rising young star a favor."

Does this mean that Woman will soon return to the NWA-and The Four Horsemen?

"Not on your life!" said Woman sternly. "That federation is no longer worthy of my presence. Look for me to rise to the top again, but don't expect it in the NWA. Like the old saying goes: Once bitten, twice shy. Those NWA officials were idiots for banning me in the first place. In fact, the NWA would have to beg me to come back!

"Yeah," she continued with a smile, "if they get down on their knees and plead with me to come back, maybe."

Woman is indeed back, and she's nastier than ever. As for her vow to never step foot in an NWA ring ever again ...

Perhaps the NWA should thank their lucky stars!