Perhaps after analyzing her appearance at ringside and several factors associated with them, we, the fans could possibly assist her with her identity crisis. Torment or pleasure-why the split personalities? How does she act as each? What does the future hold for this Dayton Beach, Florida resident? Before additional questions begin to mount, let's figure out what we do know about her.

Let's face it. Everyone has a right to change their minds as frequently as they wish but Woman is really playing some major head games with her dual personalities. For the sake of discussion, use whatever personality you feel most comfortable with when addressing this grappling "bombshell"

Just what or who is responsible for her to keep changing her outfits, name and mannerisms? Her current idea of a dilemma should be what to purchase with her protege's winnings-fur, silk or cashmere-not what character to portray while strutting to the ring. After all, she is an intelligent, accomplished woman.

While Miss Elizabeth, former wife and manager of "Macho Man" Randy Savage is obviously more well known to the wrestling public, Woman/Fallen Angel (depending on what town and whom she is touring) does more in the manager's corner than smile; she gets emotionally and physically involved, however potentially dangerous the situation may threaten to be.

Funny, but the Fallen Angel persona only seems to emerge when she is with wrestling maniac Kevin Sullivan. And she is quite unmistakable in this role. Whether Kevin orders it or she simply feels better in wearing them around him, she is usually seen in a combination of sexy lingerie, garter belts and quite revealing bathing suits.

We can safely assume that there is a definite sort of dominance over her by the still unknown powers of Kevin but the degree has not yet been determined. You don't catch her even speaking in his presence; she exists in almost a zombie-like state.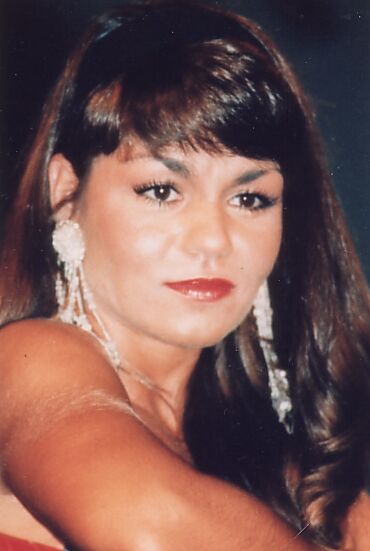 Woman
She does not act a like a manager at all; a slave to Sullivan's every wish would be a more accurate description.

As Woman, she does not have Kevin Sullivan to answer to and as a result comes across as a totally confident, domineering and professional individual. Now you can see the pattern. With Sullivan, we have a weak minded subservient, without him lurking in the shadow she is a leader.

While in the National Wrestling Alliance a few years back, Woman brought together the tag team of Doom (Butch Reed and Ron Simmons). A few months later Woman learned about being a team player and associated herself with the infamous Four Horsemen.

She also managed D.C. "Mad Dog" Drake to the Tri-State heavyweight title in 1990 and helped Larry Winters and Johnny Hotbody capture that organization's tag team championships on May 18, 1991.

As Woman, the carefree, say-as-she-pleases leader, championships are collected. She has no trouble dealing with anybody around her and always comes across as extremely self-assured. It would most certainly be in her best interest to break the spell that Kevin Sullivan holds over her and toss the Fallen Angel garb into the Goodwill box for good. Then, the future would be hers for the taking.

The possibilities are limitless. Television commentary would draw dedicated viewers. She could learn to wrestle and pursue some of the best on the ladies circuit or she could take her managing skills elsewhere. As long as she works as Woman without any outside interference, the World Wrestling Federation could even be her next stop. This fact could certainly hold true as gossip has been flying for a number of months regarding her being recruited as a manager for veteran grappler, Ric Flair.

Time is surely on her side. She is still in excellent physical shape and is always more than anxious to learn. She deserves only the best the wrestling game has to offer.

How's this for a deduction? As Woman she is domineering because as Fallen Angel she is delegated to being only second best, only a background ornament for Kevin Sullivan.

In an amateur psychiatric diagnosis, her remedy to fame and fortune is to remain solo. Photos, articles, anything with a hint of reminding her of Sullivan or the Angel must be kept at a great distance from her. As more jeers turn to cheers, Woman should then be the undisputed queen of the mat.

"Even as Fallen Angel, she was worth watching," a long time admirer noted. "Without a doubt she's the best woman this sport has ever seen. I've watched her take all of her men to championships and if she remains in control, this business has no boundaries." So Woman, the decision is yours. We all hope you make the right one.